Jorge Noriega
---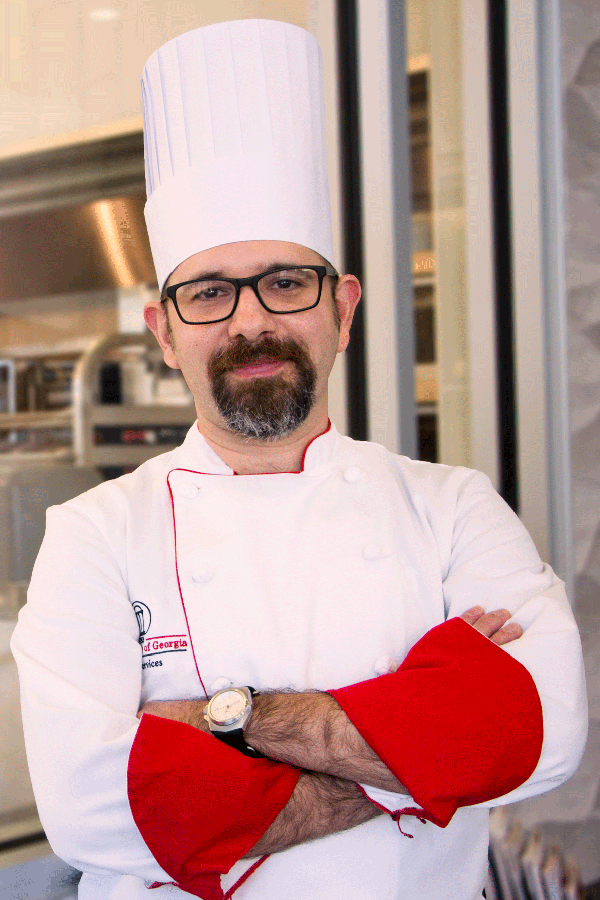 Associate Director for Culinary Development &
Certified Executive Chef
jnoriega@uga.edu
---
Bio:
I was born into a multicultural family in a multi-ethnic country that was and is obsessed with food. Growing up in Panamá meant that a family meal could be fresh corn tortillas with beans, paella or dim sum on the weekends. This environment helped create a deep love for food and helping my grandparents cook these dishes fixed that love in my mind.
During my junior year of college, I had an epiphany and decided that cooking was the correct path for me and enrolled in the culinary arts program at the Culinary Institute of America. After my eight month internship at Jockey restaurant in Madrid, I returned to the United States and officially started my culinary career as a cook at Erling Jensen's iconic upscale fine dining restaurant in Memphis, TN (voted best chef and best restaurant in Memphis for 10 years in a row) where after two months, I became the pastry chef. Later on, I took a break from the restaurant to work and train in Charlottesville Albemarle Baking Company for 10 months and then returned to Memphis to continue my tenure at Erling for another two years. In 2003, I was offered the opportunity to work with Wally Joe at his new restaurant in Memphis as the Executive Pastry Chef. During this period of my career, I met and worked with some of the best chefs from the South.
In 2006, I was recruited to be the Sous Chef for the Bistro restaurant in Santa Barbara, CA. where I learned the art of managing a high volume fine dining restaurant and a 24/7/365 In Room dining kitchen. In 2009, a friend that worked at the University of California, Santa Barbara told me that the University of California, Los Angeles was looking for an Executive Research & Development Chef for their dining services program and I jumped at the opportunity to learn something new and completely alien to me. During my six year term, I helped the UCLA team develop close to 3000 recipes and open two new restaurants. I started working at the University of Georgia in March 2016 and achieved my Executive Chef certification from the American Culinary Federation in April 2016.