Bulldog Box Program
---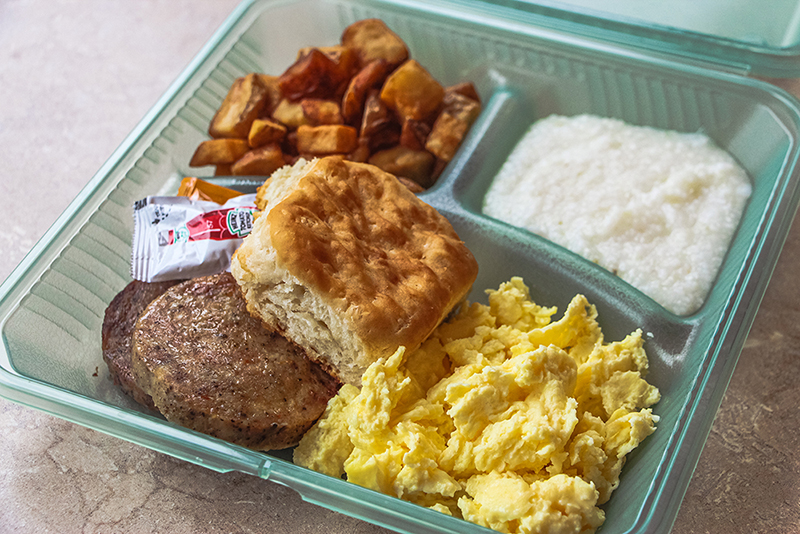 Take your meal to-go!
On a tight schedule? Bulldog Box allows meal plan participants to take their food on-the-go in a reusable, environmentally sustainable container.
All meal plan participants are eligible for the Bulldog Box program, and getting started is easy! Simply visit Dining Services Administration to activate your enrollment token.
---
How The Program Works
Activating Your Enrollment Token
All meal plan participants must visit Dining Services Administration in-person to activate their enrollment token for the Bulldog Box program.
Dining Services Administration is located in Bolton Dining Commons and is open Monday through Friday, 8:00 a.m. - 5:00 p.m.
Requesting a Box
When you come to the Dining Commons for a meal, inform the cashier that you want to get a Bulldog Box BEFORE you use the Iris camera.
There are two meal options:
Bulldog Box Meal for the existing meal period - you will have 15 minutes to fill your container. If on a block meal plan, a second swipe/block will be charged if you do not return within 15 minutes.
Bulldog Box Meal for the next meal period - you will be able to enjoy your current meal, and fill your container to take your next meal to go. The cashier will charge you two swipes/blocks, one for your meal in the dining commons and the second for your to-go meal.
Bulldog Boxes are available at the following locations during operating hours:
Bolton Dining Commons
Oglethorpe Dining Commons
Village Summit Dining Commons
Snelling Dining Commons
The Niche at Scott Hall*
*Only meal plan participants that reside on the Health Sciences Campus and faculty and staff will be able to redeem a box at the Niche at Scott Hall.
Filling the Box
You can fill your Bulldog Box container with a nutritious meal that is available during the time of your visit, but the container lid must be able to close.
Because most fruit does not fit into the container, you are are allowed to take one piece of fruit as a part of your meal.
You may bring your own drink container to fill with a beverage of your choice.
You can request a pre-packaged disposable soup cup and/or a utensil/napkin/salt/pepper kit.
Returning the Box
Discard any trash or uneaten food once the Bulldog Box is used.
The box should be brought back to the dining commons and traded for a clean Bulldog Box container each time you want to use the to-go option.
Always let the cashier know when you are returning the box so your account is charged properly.
In the event that a container is returned but a take-out meal is not requested, a virtual token will be issued that can be redeemed later for take-out.
Should you lose or misplace a box or do not return the box at the end of your meal plan contract period, a $5 replacement fee will be charged.
Additional Program Rules
Only one meal can be taken to-go per day.
Customers may not utilize take-out and consume a meal inside the dining hall on the same swipe/block.
Bottles, jars, and bulk containers, such as those containing spices, oils, vinegar, condiments, and honey are not to be removed from the Dining Commons.
The Bulldog Box is not transferable to another meal plan user.
Misuse of the program may result in loss of privileges.
For a complete list of rules, please see your current meal plan contract.
---
Food Safety Practices
Be aware of the Temperature Danger Zone, 41°F - 135°F. Cold food needs to stay below 41°F, and hot food needs to stay above 135°F.
Foods kept within the Temperature Danger Zone for more than four hours allow for bacteria to multiply, and the food must be discarded. This includes time spent in the zone during receiving, storage, preparation and cooking, and then again during holding, cooling, and reheating.
All food items taken out should be consumed or placed under refrigeration within two hours. Any saved refrigerated food should be consumed or disposed of within three days.
After four hours in the zone, the food will stay contaminated even if proper time-temperature controls are reinstated immediately.
Reheated food must be heated to at least 165°F. Food may only be reheated once, and then it must be discarded.
---
About The Box
The box is microwave and dishwasher safe and is made of 30% recycled material, there is no BPA, melamine, heavy metals or any toxic components in the material, and the container itself is recyclable at the end of its usage.
---
Mission
By providing UGA Dining Services customers a reusable, environmentally-safe, sustainable To Go container, Bulldog Box, UGA Dining Services is creating additional value for our customers by providing a new way to obtain a meal at our Dining Commons while decreasing the volume of waste that currently fills our landfills. The switch to the reusable Bulldog Box containers takes us one-step further on our journey to going green!